Facilities
Resort Information Center YOMOYAMOCHOBA (四方八方帳場)
Reception of the resort Kumano Club as well as the general information center.
Outgoing and a variety of information of Kumano, reception of Kumano club experience program, and can be used to perform the assembly, etc. For the guests who want to guidance around such as Kumano Kodo (Ancient Street), we will be address you regarding how to get there and where to visit.
Business hours
Weekdays 10:00 to 17:00
Saturdays, Sundays, and holidays 10:00 to 18:00
Tower of Light and Shade (光陰の塔)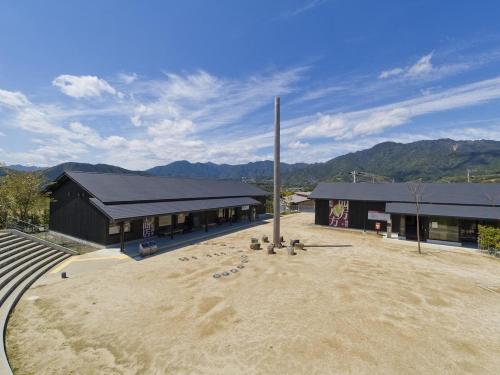 Landmark symbol of Resort Kumano Club. Kumano of trees, it was our living have been supported since ancient times, that is, "living pillars". Tower for the oath to thank importance to all of local nature and attitude that you try to treasure the life, it is the tower of Light and Shade.
Suvenir Store KINANSAKIWAISHOTEN (海の幸、山の幸 紀南幸商店)
Doesn"t it feel somehow "happy" when you come across to find out the unexpected things such as delicious and fresh food. KINANSAKIWAI store is the one of the shops that you come upon such a "happyness". Including the original jams and dressings those are from Kumano Club special, as well as a large number of Kumano of specialty products can be found in the shop.
Business hours 8: 00-17: 00 (Saturdays, Sundays, and holidays until 6:00 PM)
TEL: 0597-88-2882